Sunday, December 27, 2009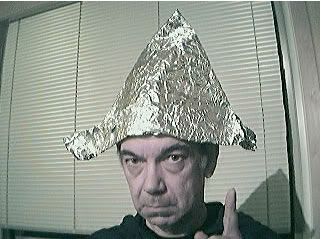 Its tin foil hat time!
Occasionally we receive really weird email rants from anti-gay christians. Here's one we received on December 26, 2009.
From Gary Lee -

"Sodomy is a sin. Unless you repent you shall all like wise perish. a Sodomite Christian is about the same as a Born Again Atheist. The 2 cannot be reconciled.

The fruit of homosexuality is extinction. All men are created equal, all sex acts are not. Repentance means to give up your sin. Read Genesis 19, Romans 1, Leviticus 20 vs 13 and 18 vs 22, and read them in context.

Judges chapter 19, anywhere sodomy takes root, it destroys the society. Two of the same cannot marry. Only male and female can advance the human race. All Sodomites can do is recruit and die of aids. Judgment follows homosexuality. Blessing and reproduction are for heterosexuals. Read the Bible and understand that lesbians and sodomites are cursed. God calls the act vile and reprobate.

david and Jonathan is not a story about sodomite affection. It is a story about a fleshly love (agape) that surpasses physical pleasure. Of Course perverts can only pervert the Scripture, otherwise you would repent of sin instead of trying to defend it.

Please use the Bible to support any of your comments.

In Christ Who is My Life,

Gary Lee"
My Response
Hello Gary-
Greetings in the precious Name of our Lord and Savior Jesus Christ. Thank you for writing and sharing the burden of your heart. Although we disagree on what the Bible says about homosexuality, I am glad you are actively engaged in witnessing. Were you one of the guys who witnessed to David Berkowitz and led him to trust Jesus Christ? Praise God for his salvation and changed life. Has it ever occurred to you that saved gays and lesbians are also your brothers and sisters in Christ?
If you care enough to read Biblical views which challenge your incorrect interpretation of the clobber passages, you will find lots of conservative, hermeneutically sound, Bible believing information on my website. Click the buttons on the NavBar to find my answers to the scriptures you listed.
If nothing else, would you be so kind as to educate yourself about the meaning of the word, sodomite? Sodomite is never used in the Bible to mean homosexual. Sodomite(s) in the Bible always translates the Hebrew word, qadesh, which has no linguistic relationship to Cedom, the Hebrew word translated as Sodom in English language Bibles. In the Bible, qadesh and qadeshah or sodomites always describes pagan, cult prostitutes (shrine prostitutes or temple prostitutes) who worshiped the Canaanite fertility goddess. I present the Biblical proof at this Link:
http://www.gaychristian101.com/sodomites.html
I pray God's richest blessings on you and your family as you walk the path of His purpose for your lives. Perhaps 2010 will be the year our Lord returns to catch up His bride.
With thanks for your fellowship in the gospel,
Your brother in Christ,
Rick Brentlinger
http://www.gaychristian101.com/My-Coming-Out.html
Two responses from Gary
Response #1



The name is Gary Lee - not Gary!

The Scripture says, "forever Oh Lord thy word is settled in Heaven." "ALL SCRIPTURE IS GIVEN BY INSPIRATION OF GOD!" THOSE WHO CHANGE ONE JOT OR TITTLE OF GOD'S WORD, THEIR NAMES ARE REMOVED FROM THE LAMB'S BOOK OF LIFE.

You need to repent, ask The Lord Jesus to change your heart, and he will make YOU A NEW CREATION IN CHRIST! Homosexual is a different type brought about by sin. Like an alcoholic, a thief, a liar, a murderer, and so on. Only male and female can have sexual relations with each and receive God Almighty's approval!

When God destroyed Sodom and Gomorrah it was because of the Sodomite death style. I do not want Him to destroy America! Repent, Jesus blood, Resurrection, and Sending of the Holy Spirit makes being Born Again possible. YOU MUST BE BORN AGAIN!

God is angry with the wicked everyday!

Gary Lee - The Poet of Truth



Response #2



Rick,

It seems you have embraced God's peripheral attributes but denied repentance and his Holiness!

Read Romans chapter 1 - Men with men working that which is unseemly. God gave them over to reprobate minds. You Rick have a reprobate mind. Rather than repent you twist the scriptures. Why? Because men love darkness rather than light because THEIR DEEDS ARE EVIL. Sodomy is an Evil Deed.

Please read the verses in context. Why? Because language without definition in context is meaningless.
Your word study cannot be right because it is in direct conflict with the maning of each passage and the Bible as a whole.

Rick, repent or die in your sins! There is no hope unless you repent!

Gary Lee - The poet of Truth.