Sunday, May 23, 2010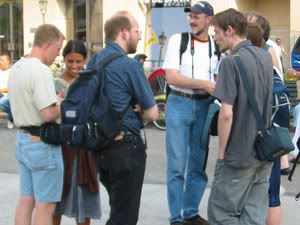 I spend part of every weekend passing out gospel tracts and witnessing for Jesus. Sunday afternoon I went to the Riverwalk Arts Festival in Milton, FL to pass out million and
trillion dollar bill
gospel tracts.
I've passed out tracts and witnessed at other Milton festivals and never had a problem but Sunday was different. A representative of the Riverwalk Arts Festival to whom I had given a tract approached me and said:
"You can't pass those out here. There are other people who paid to have a booth and they're passing out literature. You need to pay for a booth if you want to pass out your literature."
I patiently explained that we were on a public street and that since I am a Santa Rosa County property owner and a business owner, my free speech rights extend to passing out tracts on a public street.
She responded: "Yes but I rented this street for the festival and you don't have the right to be passing out literature if you haven't rented a booth."
I explained that the First Amendment of the Constitution guarantees me the right of free speech and the Supreme Court says that extends to passing out gospel literature on public streets and sidewalks.
At this point she was getting red in the face. She asked: "Why do people like you always think its alright to get a free ride on someone else's dime? If you want to pass out literature why don't you pay for a booth like everyone else?"
Again I patiently explained that in America we have the right to free speech and passing out tracts in public places. We aren't required to get a booth.
I then asked her if she was a Christian. She replied, "Yes I am."
I asked: "Why would you as a Christian object to me passing out gospel tracts and telling people about Jesus?"
She repeated what she had already said, I should pay for a booth and be part of the community instead of freeloading while others pay.
I explained that I own a business and two pieces of real estate in Santa Rosa County and that I am part of the community.
Since she was growing angrier and more red, I suggested we find a law enforcement officer and get his input on whether or not I have the freedom to pass out gospel tracts on a public street.
At that point she told me just go ahead and pass them out and she walked away and I continued passing out gospel tracts and talking to people about Jesus.
Sometimes its interesting to discover
who opposes you when you pass out gospel tracts and witness for Jesus. Sometimes the opposition comes from professing Christians more than from unsaved people.
I encourage you to witness for Jesus and pass out gospel tracts. Its one of our responsibilities as Christians to witness and tell others about Jesus.
And by the way, Federal Courts and the Supreme Court have decided many cases in favor of our freedom to witness and preach and pass out gospel tracts in public places.

Freedom of Speech and
Freedom of Religion
"Congress shall make no law respecting an establishment of religion, or prohibiting the free exercise thereof; or abridging the freedom of speech, or of the press; or the right of the people peaceably to assemble, and to petition the government for a redress of grievances." -the First Amendment to the U.S. Constitution
"Leafleting, sign display, and oral communications are protected by the First Amendment."
Hill v. Colorado, 530 U.S. 703, 715 (2000).
"The fact that the messages conveyed by [leafleting, sign displays and oral communications] may be offensive to their recipients does not deprive them of constitutional protection."
Glasson v. City of Louisville, 518 F.2d 899, 904 (6th Cir 1975).
"It is well settled that a municipality cannot place content-based restrictions on the protected exercise of speech." Deborah Kay Anderson et al v. Charter Township of Plymouth, Michigan, et al, USDC CN.02-73056 in order granting Preliminary Injunction.
"We have repeatedly referred to public streets as the archetype of a traditional public forum."
Frisby v. Schultz, 487 U.S. 474, 479 (1988).
"Wherever the title of streets and parks may rest, they have immemorially been held in trust for the use of the public and, time out of mind, have been used for purpose of assembly, communicating thoughts between citizens, and discussing public questions."
Hague v. C.I.O., 307 U.S. 496 at 515 (1939).
Federal Court of Appeals, Florida, 1972: Hostile audience is not basis for restraining otherwise legal first amendment activity. U.S.C.A. Const. Amend. I (Collie v. Chicago Park Dist., 460 F. 2d. 746).
Federal Court of Appeals, Florida, 1974: Public expression of ideas may not be prohibited merely because ideas are themselves of offensive to some of their hearers. West's F.S.A. 877.03; U.S.C.A. Const. Amend. I (Wiegand v. Seaver, 504 F. 2d. 303).
"A function of free speech under our system of government is to invite dispute. It may indeed best serve its high purpose when it induces a condition of unrest, creates dissatisfaction with conditions as they are, or even stirs people to anger. Speech is often provocative and challenging. It may strike at prejudices and preconceptions and have profound unsettling effects as it presses for acceptance of an idea.
That is why freedom of speech... is... protected against censorship or punishment...
There is no room under our Constitution for a more restrictive view" (Terminiello v. City of Chicago, 337US 1) (1949), at 3-5).
"The fact that society may find speech offensive is not a sufficient reason for suppressing it. Indeed, if it is the speaker's opinion that gives offense, that consequence is a reason for according it Constitutional protection." Simon & Shuster, Inc. v. Members of New York State Crime Victims Bd., 502 U.S. 105, 118 (1991). See also Forsyth County v. Nationalist Movement, 505 U.S. 123, 134-35 (1992)/ Erznoznik, 422 U.S. at 210/ Cohen v. California, 403 U.S. 15,21 (1971).
"Our decisions establish that mere public intolerance or animosity cannot be the basis for abridgement of these constitutional freedoms...
The First and Fourteenth Amendments do not permit a state to make criminal the exercise of the right to assembly
simply because its exercise may be "annoying" to some people." Coates v. City of Cincinnati, 402 U.S. 611, 91 S.Ct. 1686, 1689 (1921).
"Reasonable time, place and manner restrictions on free expression and their enforcement cannot be based on speech thereby restricted." Davenport v. City of Alexandria, Virginia 683 F.2d 853, on rehearing 710 F.2d. 148.
"The right to speak carries the right to be heard... Freedom to be heard is as vital to freedom of speech, as freedom to circulate is to freedom of press... [When] the right to be heard is placed in the uncontrolled discretion of the Chief of Police... He stands athwart the channels of communication as an obstruction which can be removed only after criminal trial and conviction and lengthy appeal. A more effective previous restraint is difficult to imagine." Saia v. New York, 334 U.S. 559.
"Freedom of speech is protected against censorship or punishment
unless shown likely to produce a clear and present danger of a serious substantive evil that rises far above public inconvenience, annoyance, or unrest... There is not room under our Constitution for a more restrictive view." Edwards v. South Carolina, 372 U.S. 229 (1963) at 703.
[For Pennsylvania Use] "Civil law may, at times, give way to religious beliefs." Commonwealth v. Barnhart, 345 Pa. Supp. Ct. 9.
"The right to speak carries the right to be heard." Saia v. New York, 334 U.S. 559.
"Annoyance at ideas can be cloaked in annoyance at sound." Saia v. New York, 334 U.S. 562.
"The native power of human speech can interfere little with the self-protection of those who do not wish to listen." Saia v. New York, 334 U.S. 558, 568.
"The ordinance also proscribes conduct that tends to disturb or annoy. The language of the ordinance is both vague and overbroad. The constitutionally protected exercise of free speech frequently causes a disturbance, for the very purpose of the First Amendment is to stimulate the creation and communication of new, and therefore often controversial ideas. The prohibition against conduct that tends to disturb another would literally make it a crime to deliver an unpopular speech that resulted in a disturbance. Such a restriction is a clearly invalid restriction of constitutionally protected free expression." Gardner v. Ceci, 312 F2d. 516/ Landry v. Daley, 280 F. Supp. 968.
"The phrases leave determination of what is legal behavior to the unfettered and arbitrary discretion of the individual "person in authority", and is unconstitutionally broad." Shuttleworth v. city of Birmingham, 394 U.S. 147/ 89 S. Ct. 935/ Gardner v. Ceci, 312 F2d. 516.
Borrowed from Reuben Israel's
Official Street Preachers Website
Yes, I am aware that Brother Reuben is anti-gay. He's wrong on that issue but right about our free speech rights, our Christian duty to tell others about Jesus and the absolute necessity of trusting Jesus Christ alone by faith alone, without any works being involved, as your
Savior from sin.