Monday, June 14, 2010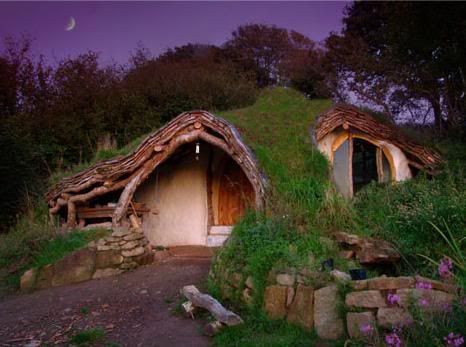 You can build a
Hobbit House
As I prepare to wander the country, I'll be looking for that special southfacing hillside under a fingernail moon, there to build by hand my own small hobbit house.
I don't plan on living in it always but only using it as a home base, a place of retreat from time to time when I weary of travel.
When I was in high school, my best friend Paul Warner and his family spent part of every summer traveling the USA in their pick-up camper. I always envied Paul the excitement of summer travel and thought that one day I would love to travel in a motorhome.
Imagine having your living room, kitchen, bedroom, bathroom always with you. Wherever you stop you're home. No unpacking, no moving into and out of a motel room. Traveling by camper or motorhome is convenient and fun.
Summer of 2009 my high school graduating class celebrated our 40th anniversary. I didn't make it to the celebration but what an incredible milestone to reach. Its hard to believe so many years have passed since we left high school and entered the world of adult responsibilities.
Which brings me to wretched excess. I'm selling my beloved books (including my cookbook collection with 1100+ cookbooks), my furniture and other possessions, moving with elan and determination toward voluntary simplicity as I prepare to sell the house and move into a cargo van which I'll convert into a mini-motorhome.
This week the collapse of a shelving unit in the master bedroom closet drove home the fact of my wretched excess.
I hung too many pairs of slacks on hangers and piled too many folded polo shirts and blankets on the shelf above the slacks until the screws pulled loose from the wall and everything tumbled to the floor.
As I cleaned up the mess I counted the slacks and shirts.
64 pairs of dress and casual slacks
94 shirts
plus excess shoes, sweaters, walking shorts and more.
I am amazed at what I've accumulated. Two years ago I went through the same closet and gave away 40 pairs of slacks and about 60 shirts. They seem to multiply when I'm not watching.
Moving into a small space requires stern self-discipline and severe thinning out of my wardrobe and everything else I own. I'll be moving from a 1600 sq. ft. house into a 100 sq. ft. Mercedes powered cargo van. It won't be easy deciding what goes and what stays but I love a challenge.
Once I've sold the antiques, the books, the wretched excess of clothing and shoes and the antique American pressed glass and other knic knacs inherited from my great-grandmother, life may seem spartan for awhile.
Yet the Bible tells us
"a man's life doesn't consist in the abundance of things which he possesses." -Luke 12:15
Sometimes less is more.
Voluntary simplicity will free me from being possessed by my possessions. Without the necessity of supporting a sticks and bricks home and keeping a roof over all my stuff, I'll experience a new birth of freedom.
I'll roam the country at will, enjoying a backyard view of mountains one day and seacoast the next. Living expenses will be cut to the bone.
Instead of being forced to earn money to support a house I'll be free to live simply. Focused on living life and exploring the country, I'll chase my dreams instead of being tied to a piece of real estate till death us do part.
But what will you do for a home, someone asked? That my dear, is for upcoming Blog entries.