Sunday, March 21, 2010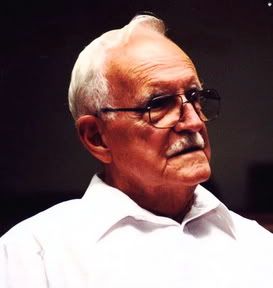 L.H. "Brent" Brentlinger
August 9, 1921 - March 19, 2010
My father died early Friday morning, in Pandora, OH. He was 88. For the last few days of his life, he was in a comatose state. My sister Chris spent most of Friday sitting with him because she knew he was in the end-stage of life. About 9:30 in the evening she went home, took a shower and was getting ready for bed.
She told Steve, her husband, that she wasn't sleepy and she was going back to the nursing home to sit with Dad for a while. In his comatose state, Dad wasn't moving at all. He was lying peacefully, not in distress. Chris said at 3:51 in the morning, Dad raised his head, opened his eyes, looked at the ceiling and a big smile brightened his face, then he laid his head back on the pillow and was gone.
We had been praying that the Lord would take him home so its a blessing to know he is now in heaven with Mom, my two brothers David and Dan, who died several years ago and with so many others he knew who were already in heaven.
For the first time in his life, Dad is seeing in person, the Jesus who saved him and Whom he served so faithfully on earth.
Dad told my sister several months ago that he wanted to close his eyes on earth and open them in heaven and that's exactly what he did.
Here is the Obituary I wrote for Dad.
L.H. "Brent" Brentlinger, formerly of Pace, FL, was a member of Bible Baptist Church, Pace, FL and an avid witness to the grace of God in Jesus Christ, was born on August 9, 1921, in Wapakoneta, Ohio and died in Pandora, Ohio on March 19, 2010, at age 88. His wife, Connie preceded him in death on January 3, 2002, after 55 years of marriage. Brent and Connie got saved in 1951 and God radically changed their lives. Brent was the loving father of six children, Rick, of Pace, FL, Chris (Sandy), John, Dan and David (both deceased) and James and proud grandfather of 13 grandchildren. 

Brent served for three years as an Army Medic, first in New Guinea and later in the Philippines during World War II, finishing his tour of duty as part of the Army of Occupation in Japan. In civilian life Brent was a Master Tool & Die maker, an Independent Baptist Deacon at Northside Baptist Church in Lima, Ohio, Sunday School Superintendent, Bible teacher and witness for Jesus Christ. A strong believer in the power of prayer, it gave Brent great joy to know that all of his children had trusted Jesus Christ as Savior.

Brent will be interred beside his loving wife Connie, at Barrancas National Cemetery, Pensacola, FL. He requested that no service be held for him. In lieu of flowers, Brent encouraged those who knew him to support Bible believing missionaries who preach the gospel around the world.